Accessories
Bolster, Regular - Package of 04
Yoga Mart USA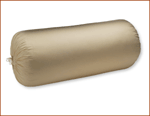 This Regular sized (7 - 8 lbs) Natural Color Muslin Bolster is made to the same specifications as the bolsters used in Pune at RIMYI. Each bolster has 2 covers with drawstrings so the outer cover may easily be removed for laundering.  24"long, 35" circumference, 11" Diameter, 7.5 - 8 lbs.
Each bolster is hand rolled therfore slight variation is expected.
Hand rolled in Dallas, TX.
---
More from this collection